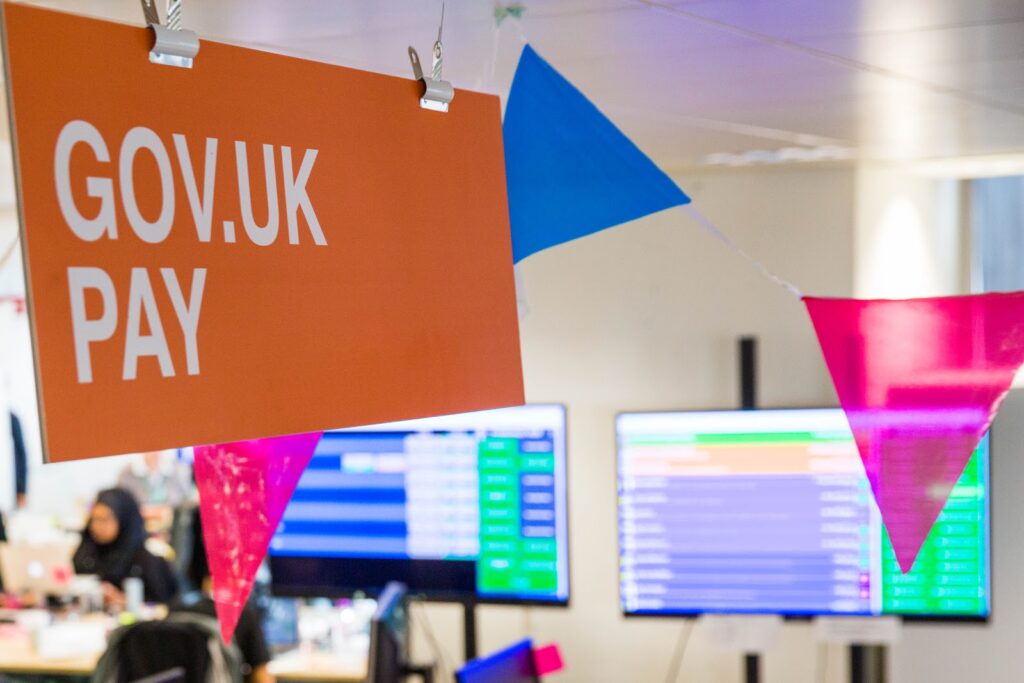 GOV.UK Pay is a service available to any government or public sector organisation that wants to take card payments online, and is used for things like:

Lots of central government departments have successfully integrated GOV.UK Pay into their services. But we've found that smaller public sector organisations like local authorities were having trouble setting up and using the service.
User research showed we had to speed up the sign-up process

When we launched GOV.UK Pay, we mainly worked with large government departments, most of whom already had contracts with Payment Service Providers (PSPs).
PSPs provide a payment gateway and merchant acquiring services for card payments. This is how money flows from a citizen's bank account to the organisation's bank account.
Originally our users needed a PSP account before they could use GOV.UK Pay. While some public organisations can get a PSP contract through the Government Banking Service, this is not available to all public sector organisations.
Our research showed the process for setting up a GOV.UK Pay account was complex and we found our users often made mistakes and usually required direct support from the GOV.UK Pay team. The typical enrolment process involved:
organisations procuring a PSP contract, which took up to 6 months

teams setting a new merchant account with their PSP, which often took about 2 months

users printing out, signing and returning the GOV.UK contract to GDS

developers connecting the organisations PSP merchant account to GOV.UK Pay
Whilst this approach slowed down enrolment for everyone, the pilot we ran with local authorities last year told us it was causing particular difficulties for smaller organisations.
Making it easier for smaller organisations to set up GOV.UK Pay
Last year, GOV.UK Pay released its payment links feature, which allows service teams to set up a payment page in minutes, with no technical expertise required. This means it's possible to take payments without integrating with GOV.UK Pay's API.
We also looked to the private sector for some inspiration to speed up the GOV.UK Pay enrolment process. We learned how some private organisations have developed their services to allow their users to make payments online using a few simple steps.
First, we procured a PSP contract with Stripe that our users could use immediately. This meant our users:

no longer needed to procure their own PSP contract

did not need to incur the costs that came through conducting procurements

could enrol onto GOV.UK Pay faster
Secondly, we improved the process for connecting merchant accounts to GOV.UK Pay. Our users can now submit their details through GOV.UK Pay, which sends them through API to the PSP who perform regulatory checks and can set up the account instantly.
As a result there's no longer any need to fill in paper forms, communicate with sales managers or wait for accounts to be set up.
Benefits for everyone
Using payment links, combined with the GOV.UK Pay PSP contract, means that an organisation can start from zero - no contract, no integration - and take payments within a day.
Since rolling our new process, we've seen an increase in the number of smaller public organisations signing up to GOV.UK Pay. More than 30 local authorities have started taking payments with GOV.UK Pay recently, many of whom are choosing to use our PSP contract.
Organisations using their own PSP have also benefited from the work we've done, as the process of requesting a live account and agreeing to our contract can now be done online.
As a result of this success we're now introducing a similar model for Direct Debit. By procuring a central contract with GoCardless that our users can use, we will similarly reduce the time it takes to set up Direct Debit with GOV.UK Pay. This can currently take up to 9 months, but in future it could take as little as 2 days.
If you want to start taking payments today enrol on GOV.UK Pay. You can also learn about how we've recently implemented Apple Pay and Google Pay into the service.