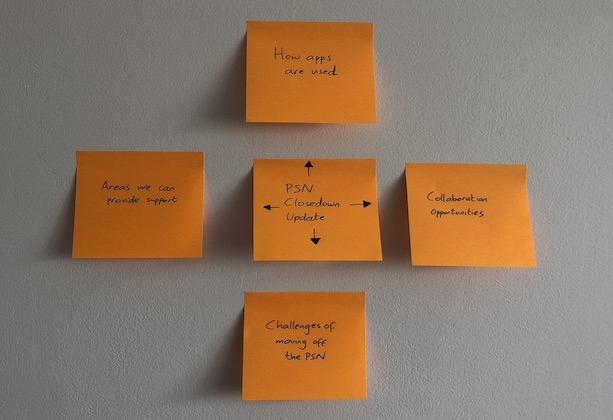 In September 2019, Government Digital Service (GDS) published an update about the Future Networks for Government (FN4G) Programme (PSN Closedown), which is supporting the public sector to migrate away from the Public Services Network (PSN).     
Organisations should migrate to modern network solutions which offer more competitive commercial terms, greater flexibility and scalability. These solutions should be appropriately secure and follow:

Discovering what PSN applications are a priority
The FN4G team has completed a survey of use of the PSN, with a questionnaire sent to nearly all user organisations. The results provide an end-to-end view of the PSN landscape, showing the number of applications and services on the PSN and highlighting which organisations already have migration dates.  
Nearly 200 applications are used over the PSN. Our current approach is to focus on departments who run the most used applications. These include the Home Office and its plans for a post-PSN law enforcement community network and Department for Work and Pensions (DWP) applications, which are used by most local authorities (LAs).
We've received feedback that a majority of LAs would like to migrate from the PSN but can only do so once the applications they need to use have moved off. Our survey showed that LAs are often only on the PSN to access a small number of applications, resulting in unnecessary costs and resources.
Engaging with government departments
The team has worked hard to develop good relationships and open communication with government departments responsible for widely used and critical applications. The Department for Work and Pensions, Ministry of Defence, Ministry of Justice, Home Office and Cabinet Office are all providing us with their plans to move to new technologies. 
Each of these organisations has collaborated with us and is helping to establish the new technology landscape for the government. Through our engagements, central and local government organisations are planning to move or have moved to modern technologies that will allow greater flexibility for secure working practices in the future.
Working closely with these departments we have learned 4 things.
1. How applications are used
We've achieved a much better understanding of how these applications are used across the public sector. For example there are some applications which have moved off the PSN but which a significant number of LAs say they are still using over the PSN. This has highlighted a need for improved communications between central government departments and LAs.
2. The challenges of moving off the PSN
We've gained an in-depth understanding of the constraints and challenges of moving to modern network solutions. In many cases departments have complex dependencies on other organisations or applications. Some may lack resources (COVID-19 has often meant resources are prioritised elsewhere), and there are security or cultural issues stopping migration planning.

3. Collaboration opportunities
We've identified opportunities for organisations to collaborate because we have developed a large contact database. We discovered that several departments have the same cultural or technical challenges in exiting PSN, such as an approach to security certification. We have brokered pan-government conversations to share learning and explore solutions and potential economies of scale.
4. Areas we can provide support
We've identified where organisations are on their transition journey and worked with them to support acceleration of these plans.
We've also identified alternative migration options via third-party supplier solutions, such as providing a gateway to the PSN.
Next steps
We now wish to significantly step up our efforts to support transition away from the PSN by:
encouraging organisations providing applications over the PSN to accelerate their PSN migration programmes to meet migration deadlines

encouraging better communication between government departments and LAs on the progress of application migration timescales so LAs can effectively plan their PSN exit

encouraging LAs and other organisations consuming applications over the PSN to plan ahead for migration away from the PSN, particularly ensuring the security of their networks on the cloud

working with a second tier of application provider organisations

compiling a single roadmap of PSN exit for all application provider organisations
We aim to have an estimated date when most organisations will exit the PSN by the end of March 2021. We already expect some of the key applications used by LAs to have migrated by 2021.

The PSN closedown could take place as early as 2023. 
We anticipate a scenario where only a few organisations are still using the PSN, which would mean they would pay inflated network costs. It's in every public sector organisation's interest to exit the PSN as soon as possible and we believe this should be an urgent priority. The benefits will be a greater return on investment and a more secure, modern technology environment for the public sector overall.
Running in parallel with GCF exit
The Government Convergence Framework (GCF) Exit project is a tactical solution for a subset of services on PSN, which are currently provided by Vodafone. Existing contracts for the PSN will remain unchanged by the close down activity outlined in this blog post. GCF Exit is managed by Crown Commercial Service (CCS) and its objective is to allow an orderly migration from the PSN. 
Details of the end of the email relay service by March 2021 have already been announced and further information on DNS will be available soon. More information is available from GCFWithdrawal@crowncommercial.gov.uk.
For more information on the PSN closedown please email FN4G@digital.cabinet-office.gov.uk.