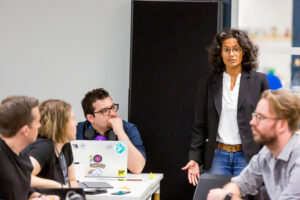 The agenda is now live on our Eventbrite page and contains a good selection of technical and strategic talks, as well as some case studies and a panel discussion. 
API reuse discussions on the agenda 
I'm particularly looking forward to the discussions on API reuse. When launching the government API catalogue a few weeks ago, we cited one of its core objectives as helping improve transparency of API development across government. That it has done, with even the few APIs that have been added already. 
What the catalogue could also potentially do is get API development teams thinking about how components they design can be reused across government. 
But the question is how much is API reuse even possible, and what are we talking about when discussing reuse? API reuse could refer to:
API processes, like how clients do testing 

API functionality, like the access rights and security policies implemented, or the documentation template used 

the data sets the APIs call

the whole API, like is the case with GOV.UK Pay and GOV.UK Notify, which are both treated as products each time they are deployed by a government organisation
At the meetup, we'll be hearing from DWP and HMRC on what kind of API reuse they think is possible, and what API development teams should be thinking about when developing an API with reuse in mind. 
Suppliers welcome at this meetup
We've held quite a few API meetups in recent years but this is the first time we've given suppliers a voice in the agenda and really tried to make them feel welcome. 
It's important we involve suppliers working on APIs in the public sector so we can learn from suppliers' cross-government views and approaches as they implement similar APIs in many different departments. This will also ensure suppliers follow the same thinking and best practices as the rest of the cross-government API and data exchange community. 
We'll also hear from more niche suppliers in areas such as API management on what they think the future will hold for tooling - we'll be holding a panel at the event on the future of API management to try to get some thoughts in this particular area.
A good mix of technical and strategic talks 
The API meetups we've been holding for the last couple of years have been slowly changing from more technical discussions (as we tried to nail down the Government API standards and the accompanying guidance) to more strategic discussions (as more departments are launching full API strategies). 
At this event, we've tried to ensure a mix of both technical and strategic talks so the event can appeal to all of those in the API community, from the technical architects and the rest of the API design team, to those in senior management setting the API strategies. 
This meetup will focus on some more technical and practical areas, like how we, best support clients to test our APIs, think about designing data APIs and do user research for APIs.
We'll then be moving on to some strategic discussions, like how the Ministry of Defence (MOD) is moving to an API First organisation. We'll also hear how the Italian government is working with the API international standards community and how Newcastle is using APIs as an asset. DWP will present on how it's using APIs to transform its organisation.
Join the Government API and data exchange community
Our event on 13 November is unfortunately already sold out but please email us if you would like to join the waiting list for the event and the Government API and data exchange community. Being part of the community means you will be kept updated on more events like this. 
The full agenda of the event is below. 
Agenda
09:30am to 10am: Coffee and networking
10am to 10:10am: Welcome, Rosalie Marshall, Government Digital Service (GDS)
10:10am to 10:30am : 4 ways we're improving API and data exchange capability, Rosalie Marshall (GDS)
An update from GDS on the launch of the API catalogue, new guidance on API management and API principles, the data standards work and the updated API standards.
10:30am to 10:50am: API user research for COGS, Alex Tucker and Bill Roberts (Office for National Statistics and Swirrl)
Where we are with API user research and design for the Connected Open Government Statistics project with ONS.
10:50am to 11am: API Reuse: how straightforward is it? Richard Baines (HMRC)
The ability to reuse APIs is often cited as a potential benefit to creating them, but is it as clear cut as it seems? Some lessons from HMRC's experience in implementing its API strategy.
11am to 11:25am: The Benefits API: a case study on cross-government working, Jacqui Leggetter (DWP)
A talk from DWP on the Benefits API between DWP and NHS, covering its reusable components and its benefits to the Blue Badge Scheme.
11:25am to 11:40am: An Ofgem API case study, Deborah Fehindemi (Ofgem) and Valtech speaker TBC.
11:40am to 12pm: Supporting API clients, David Heath (GOV.UK Pay)
A talk from GOV.UK Pay on how to support the development process of clients using your API.
12pm to 12:20pm: Designing data APIs, Simon Worthington and Andy Bennet (Register Dynamics)
How data APIs are different from transactional APIs and how to best design them to make it easy to keep data up-to-date.
12:20pm to 1pm: Buffet lunch & networking (hosted by DWP)
1pm to 1:20pm: How we as a city can push APIs as a city asset, Dr Luke Smith (Newcastle University's Urban Observatory)
1:20pm to 1:40pm: NHS (TBC), Jonathon Telfer and Mark Chapman
1:40pm to 2:00pm: Moving the MOD to an API-first organisation, Richard Williams and John Wharton (MOD)
2:00pm to 2:15pm: Break
2:15pm to 2:20pm: Video - how we work with API international standards to drive consistency, Roberto Polli (Italian Government)
2:20pm to 2:35pm: Using APIs to help drive business transformation, Andy Penrose (DWP)
A talk from DWP on how they are using APIs to transform their organisation and remove some of their operational silos. This will also cover API enablement and the 6 key things DWP have identified that make an organisation API ready.
2:35pm to 2:55pm: Panel - the future of API Management
Panellists: HMRC, DWP, NHS, Mulesoft, WS02
2:55pm to 3:00pm: Close, Rosalie Marshall