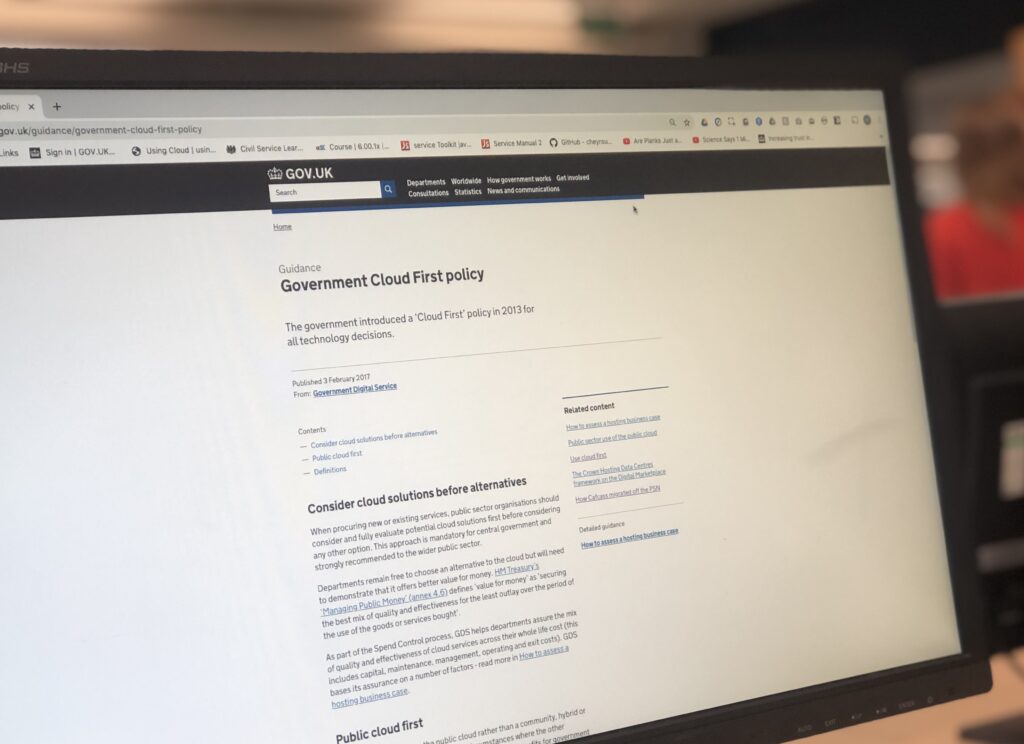 There's been some interest from the public sector and industry in the research the Government Digital Service (GDS) is doing in collaboration with government organisations on the Cloud First policy. 
Now that we have finished the most recent round of user research, we can say that Cloud First is as relevant to government today as it was when it was introduced, and will remain a flagship technology policy.
Our plan, as informed by user research, is to keep the policy as it stands. It's not being revised, reissued or renamed. Instead, we're looking at ways to better meet users' needs around cloud, predominantly by providing more detailed guidance and support.
Cloud First is at the heart of digital transformation
Since its launch in 2013, the Cloud First policy has been one of the government's flagship technology policies and an important point in the Technology Code of Practice. The policy says that organisations should evaluate cloud solutions first before considering any other option. Organisations are free to use other options but need to demonstrate that alternatives offer the right levels of security, flexibility and value for money. 
Cloud adoption has been an important part of government transformation. But given the pace at which technology advances, the Technology and Digital Leaders' Network (TDLN) thought it was time to review departments' experiences of cloud. They asked GDS to lead on some cross-government research to make sure that our guidance is still relevant, and to establish what else users need from us.  To do that we spoke to a range of civil servants, from technical architects to chief technology officers, across 14 different organisations.
It quickly became clear how important the policy still is as it stands. Many government technology strategies are directly built on a Cloud First approach, including the:

A lot of user research participants told us how important following the Cloud First policy has been to helping them build modern services and transform their organisations.
And we've heard how moving to the cloud has helped organisations to achieve significant efficiencies over their previous hosting arrangements.
The policy also fits in with other government organisations that provide advice to the public sector. This includes the National Cyber Security Centre, which provides guidance on using cloud services securely.
Organisations understand Cloud First is not cloud only
We spoke to participants from lots of different organisations from large central government organisations to smaller agencies. Some of them like the Food Standards Agency have already fully moved to the public cloud. Others like the Ministry of Defence have a hybrid, multi-cloud strategy.
All of our participants understood the detail of the policy, including the fact it enables organisations to form a cloud strategy that's right for them. They recognised the Cloud First policy requires them to 'consider' public cloud services before any other option, but that those other options do remain open to them. 
Different organisations face different sets of challenges when it comes to cloud, and there is not a one-size-fits-all solution. But we found that the Cloud First policy has strong 'brand recognition' across government and that changing its name or content would not be beneficial to users. It helps technology and commercial people alike to modernise their organisations' infrastructure. 
More cloud guidance is coming
We also found that while the policy is clear, organisations do need more help when considering the potential benefits of different approaches to cloud. Crown Commercial Service and GDS, alongside many other departments, have established a working group to explore how we can help users balance technical and commercial requirements when procuring cloud solutions. 
And our user research indicates that organisations need extra help on issues such as lock-in, cost optimisation, and what benefits they might get from hybrid or multi-cloud. We've started work on several pieces of guidance that will support organisations with these issues.  This guidance is being written in collaboration with users to make sure it's clear and meets their needs. We'll be creating this guidance with the help of the TDLN peer review group, and publishing it in the coming months.
If you'd like to help out with user research on the Cloud First policy and related guidance, email cloud-strategy@digital.cabinet-office.gov.uk or leave a comment below.