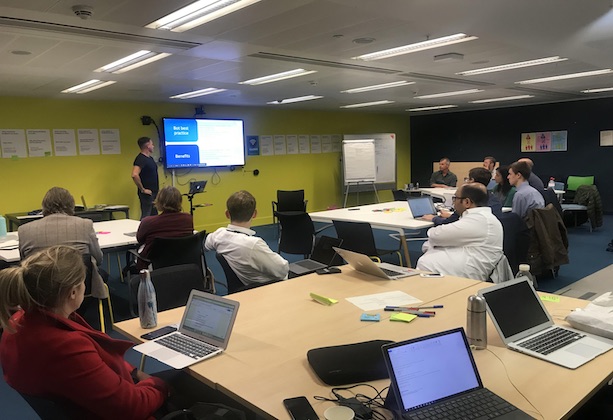 As more public sector organisations are experimenting with chatbots (automated assistants) and webchats (human-to-human interactions), there is a need to share our knowledge and experiences with each other.
The Government Digital Service (GDS) Technology Policy team set up an event that involved: 
presentations on user journeys, development and service design 

testing current chatbots and webchat applications

discussions and networking 
Ministry of Justice - 'when words are not enough'
Carolina Pizatto, a service designer from the User Centred Policy Design team, spoke about their recent trials for child arrangements with chatbots, and audio and video formats. She helped us understand that most users who interact with the justice system are often in a moment of crisis. 
Users in crisis might not engage with text-heavy content in the same way they would if they were not in a moment of high stress. Using alternative formats like chatbots or webchat may help in these stressful situations. 
Carolina highlighted the importance of managing users' expectations and continuous user testing in developing chatbots that meet user needs, especially for more vulnerable users.
DVLA - webchat and chatbot projects
The Driver and Vehicle Licensing Agency (DVLA) currently has one of the largest webchat and chatbot projects on GOV.UK. They won a CCA Award for Best Use of Technology in 2017 for their contact centre.
Robert Holohan and Benjamin Hixson, both customer focus managers, talked us through how they developed their webchat platform from handling one service to now supporting four main online services, including Tax a Vehicle Online. 
They've now rolled out their chatbot across all webchat services. This has helped reduce chat handling time and chat abandonment in their queues. One of their best practice recommendations was to take time to develop natural language processing by starting small and simple. 
HMRC - an interactive guidance "village"
Citizens who interact with HMRC often have broad and complex user needs that can range from managing tax credits to income tax enquiries.
To support their users, Micheal Ashinze and Dave Johnson described how they're developing an interactive guidance service ecology. They are testing with chatbots and webchats to direct users to the quickest and most efficient route to solve their problems.
HMRC is aiming to launch a cross-directorate team to support the millions of users who will use the interactive guidance to access HMRC's services.
'Testing the bots' and developing best practice
During the day attendees were given the opportunity to judge the projects themselves. We then talked about best practice when developing chatbots and webchat platforms. The group agreed that it's important to:
set user expectations as early as possible

create a knowledge base to draw from

provide 'escape routes' or alternative means of communication for users who are stuck

keep design patterns as close to GOV.UK style as possible

give reassurance, not only guidance and information

build interactive conversations but do not duplicate information

design for scenarios, not questions

respond to specific situations

continuously user test
Get in touch
The Technology Policy team held this event as an opportunity to understand how departments are using these technologies, and how we could provide support through developing guidance or by holding similar events. 
So if you're working on chatbots or webchat, we're keen to hear about your experiences. You can email the GDS tech policy team directly or leave a comment below.
Join our Slack channel  
If you're currently working on either chatbots or webchat and would like to connect with others, join the new cross-government digital Slack group #chatbots-webchat and share your story.