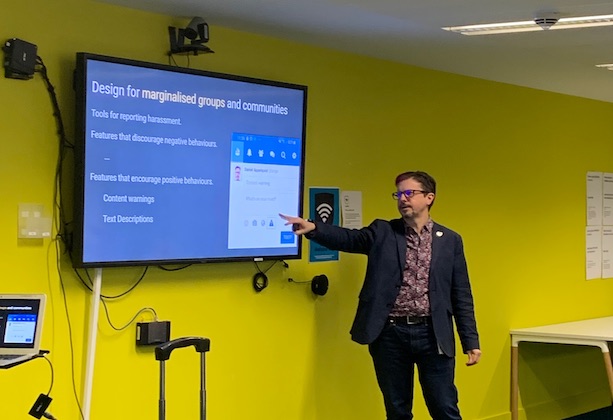 I sit in the Service, Design and Technology Standards programme in the Government Digital Service (GDS) and a lot of my work involves looking at the standards landscape to see how we can improve interoperability within government, especially in the areas of data, APIs and documentation. 
This is a collaborative effort and involves relying heavily on thoughts and guidance from the government API and Data Exchange Community of Practice. 
The community recently attended a morning of 'Tech Talks' at GDS on the topics of interoperability and open standards. The talks were from speakers who are leaders in their space, and helped us open up some of the conversations within the community and consider new goals for what we are trying to achieve. 
Dan Appelquist: "What's new in web standards?"
The first speaker was Dan Appelquist, who previously worked at GDS on Open Standards, while also contributing to the Government API Standards. Dan is Head of Developer Advocacy for Samsung Internet, co-chair of the W3C Technical Architecture Group, and continues to be a member of the UK Government Open Standards Board. 
One of my first take-aways from Dan's talk was that as government, we have enormous potential to get involved in discussions on web standards taking place in the W3C community and to help set web standards. Something we should be doing more, as part of our focus on open data standards, is joining these discussions and helping to make sure they meet the needs of government users. 
Dan also discussed data ethics, and encouraged attendees to consider aspects such as accessibility, internationalisation, privacy, and security on the web. He shared the W3C Technical Architecture Ethical Web Principles he worked on, and reiterated the need for the web to prioritise the needs of the marginalised over the comfort of the privileged, an ethic GDS is strongly focused on. 
For example, when designing new services, it's important to consider some users will be using low bandwidth networks and low spec phones and devices.
Lorna Mitchell: "Introduction to OpenAPI"
Lorna Mitchell is a Developer Advocate for Nexmo, and regularly talks about how useful she finds the OpenAPI spec for her work there.
Last year the Open Standards Board passed OpenAPI 3 as a standard for the rest of government to use, but purely for documentation purposes. 
What Laura helped us all understand is that there is tremendous value in also using the spec for design-first purposes. 
She walked us through the tools that can work with Open API 3 to do this. Ideally this design would involve collaboration between the writer, the software engineering team and the product manager. Lorna also showed us how Open API can help you poke around with unfamiliar APIs.  
Lorna also encouraged the audience to use metadata descriptions for their APIs, as these descriptions were essential to the findability of the API online. 
Kin Lane: "An API-first structure"
Kin Lane describes himself as an API Evangelist for all APIs. Kin is most known for his work with the US government as a consultant and as the Presidential Innovation Fellow for the US Department of Veterans Affairs. He is currently the Chief Evangelist at Postman.
Kin built on Lorna's talk, discussing how API design-first is essential to an organisation's API strategy. An API-first structure helps you prioritise users and deliver better quality APIs for use across desktop, web, mobile, and device applications. 'API mocking' and using a design spec like OpenAPI ensures that the people and processes that engage with these applications are considered throughout their development and evolution. 
The other important take-away I took from Kin's talk was that it's important for API development teams to tell the story of what their API does. 
It's easy for development teams to get bogged down in the technical and delivery detail but Kin was very clear that they need to tell the wider story of what their API will bring to government or government users. 
While it is true that APIs are often a very technical and abstract concept which requires a more technically-inclined individual to engage, APIs are something that impacts everyone - business users and developers - across today's digital landscape.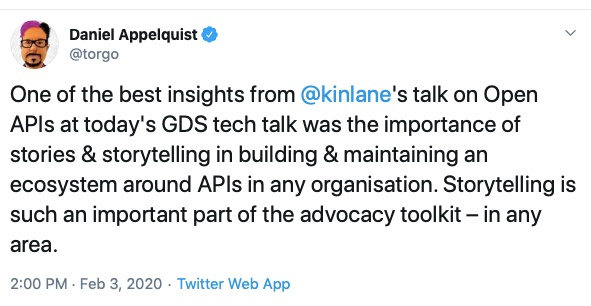 Come along to our next data exchange event
We are holding an event on 16 March in London with the National Archives to discuss long-term data management. You can find more information and sign up via our Eventbrite page.